Nukes aren't India's greatest threat to the world.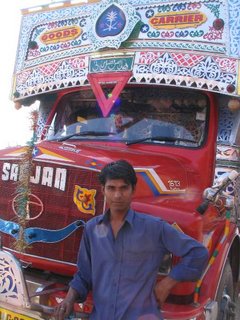 In the same week that
el Presidente
George Bush pushed his controversial
nukes
deal forward with India, he also entered into further partnership by funding long overdue prevention measures in the fight against HIV virus in that country. It has long been thought that the exponentially rapid spread of the disease on the Indian sub-continent would surface as a threat to the instability in the region. Activists such as Dr. Suniti Solomon began one of the first HIV awareness programs over 20 years ago. He has constantly predicted dire consequences if control measures were not forcefully implemented. Today with over 1 billion people, the situation is said to be only worse in South Africa.
Like South Africa, India has finally awoken itself to the role that migrant workers play in the spread of the virus. This phenomenon, involves truck drivers who transport "much more than cargo" from town to town.(see image) It is estimated that there are between 2 to 5 million long distance drivers in India. The time spent away from their families often places them in close proximity to "high risk" sexual networks. These networks are locations where sex workers and drug addicts often frequent. The road networks in India are some of the most extensive in the world. This network has become the "veins" through which the disease now spreads throughout India─ making these drivers the single greatest HIV/AIDS source in the country.
Rather than partnering for the sake of nuclear energy/weapons research, the US and others should further their role in partnering to increase AIDS awareness in India. With an ever increasing infection rate (now approximately 7 million), coupled with India's continued furthering of nuclear energy research ─ India is fast becoming not only a territory for instability but a growing security threat to the region and to the world.